Welcome to the Car Mechanic Simulator 2021 Wiki!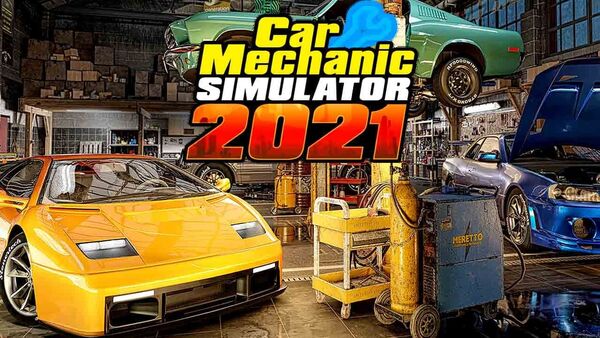 Car Mechanic Simulator 2021 is a simulation video game depicting the work of an automotive mechanic. It was released on Aug 11, 2021. The game is a sequel to Car Mechanic Simulator 2018.
Work your way to a service empire. Get your hands dirty in a highly realistic simulation game that pays great attention to details. Pay a visit to a new Auction house and buy cars in various conditions. Expand your range of services by investing in a new workspace and equipment.
Gameplay
The game uses a first-person perspective, with the player able to walk freely around different locations. Throughout the game, players will receive orders, unique requests from customers that need car repairs or maintenance. Upon accepting a job through the phone, a car will spawn on the garage. The player must inspect, remove, or replace the relevant broken parts with the help of various tools and devices. The player can take a working vehicle for a test drive on different tracks before returning it to the customer or sold. As you repair vehicles and complete orders, you obtain cash, experience points, and a chance to receive a case. When you gain enough experience, you level up and earn skill points to spend on Skills.
To find different cars and parts to purchase for their collection, the player can visit places like barns, the junkyard, the auction house, and the car salon. Fixing up junkyard vehicles is another way to earn money, specifically if one utilizes the ability to repair parts on the workbench (with the necessary unlocks). Restoring these cars and selling them can also earn a restoration bonus.
About
Features of Car Mechanic Simulator 2021
Photorealistic graphics
72+ Cars to get your hands dirty with
10+ tools to help you check out cars
36+ engines to get your hands on
4000+ parts waiting for you
An infinite number of randomly-generated orders
Advanced Upgrades System (level up and spend your points to upgrades)
Path Test to test car suspension
Test Track to test car condition (or just fool around)
Race Track to test car performance
Car Auctions where you can compete with other bidders and try to outbid them
Car Paint Shop with different paint types and car liveries (or you can just paint one part to save money)
Barn Finds, where you search for abandoned cars in barns - make sure to look there for parts
Junkyard (scavenge for parts and rusty cars)
Car Editor for modders (add your cars to the game!)
New Features since CMS 2018
Car Fluids
Car Wash with new grime-removing machines
Spacious open plan garage
New damage type for body parts - dent
Paintable mechanical car parts
New engine sounds
Minigames
Brake lathe tool
Quality upgrade system
Fuse boxes
New Parking System
Salvage Auctions
Revised part-examine mode
Visual customization body parts
Car Configurator
Rusted bolts
Content
Changelog
Current Version: 1.0.8
Full changelog
Fixed bug with disappearing engine on engine stand
Fixed bug with sending car to parking did lock gameplay
Fixed bug with changing liveries after paying for one
Fixed rare bug with wheel changer
Fixed sorting by name - it will not make items jump places when selling them
Added tablet in pie menu on engine stand
Added engine rotate in pie menu on engine stand
Junkyard and barns will now have level 3 quality parts
Better path test controller throttle detection
Scraping will give you more scraps based on item quality and value
Black aluminium on rims will not change color when painting
Interior parts are not calculated into interior value, not parts value
Reworked sounds of turbo and supercharger
Added control description when draining fluids
Separated game setting for camera movement speed and cursor speed (only on gamepad)
More accurate lighting in paint shop
Small changes of various car parameters in : Mioveni Urs, Sakura GT20, Sakura Yaro, Griffin Tyro, Royale Town
Fixed wrong car sitting position when seats are rotated
Changed sound of some engines
Fixed animation and sound length of brake lathe
Updated race track collider
Optimized race track map
Changed Tempesta Magnum Flatface to Fullface with mounted bumper and headlights
Better car reflections on Auctions
Welder cost vary between cars
Interior detailing cost vary between cars (if do not own car wash)
Updated Polish, Turkish, Czech, German, Portuguese language
DLCs